Can you believe 2018 is only a few weeks away? The 2017 wedding season is just beginning to close for Persnickety, and it has been such a fun year for wedding stationery! We saw everything from rose gold to rustic and all the wedding trends
in between, and now we're so excited for what 2018 has in store for the world of paper and design.
Following stationery trends is one of our favorite things to watch at Persnickety, and we have gathered our top 5 favorite trends you'll be seeing in wedding stationery in the upcoming year. Which is your favorite?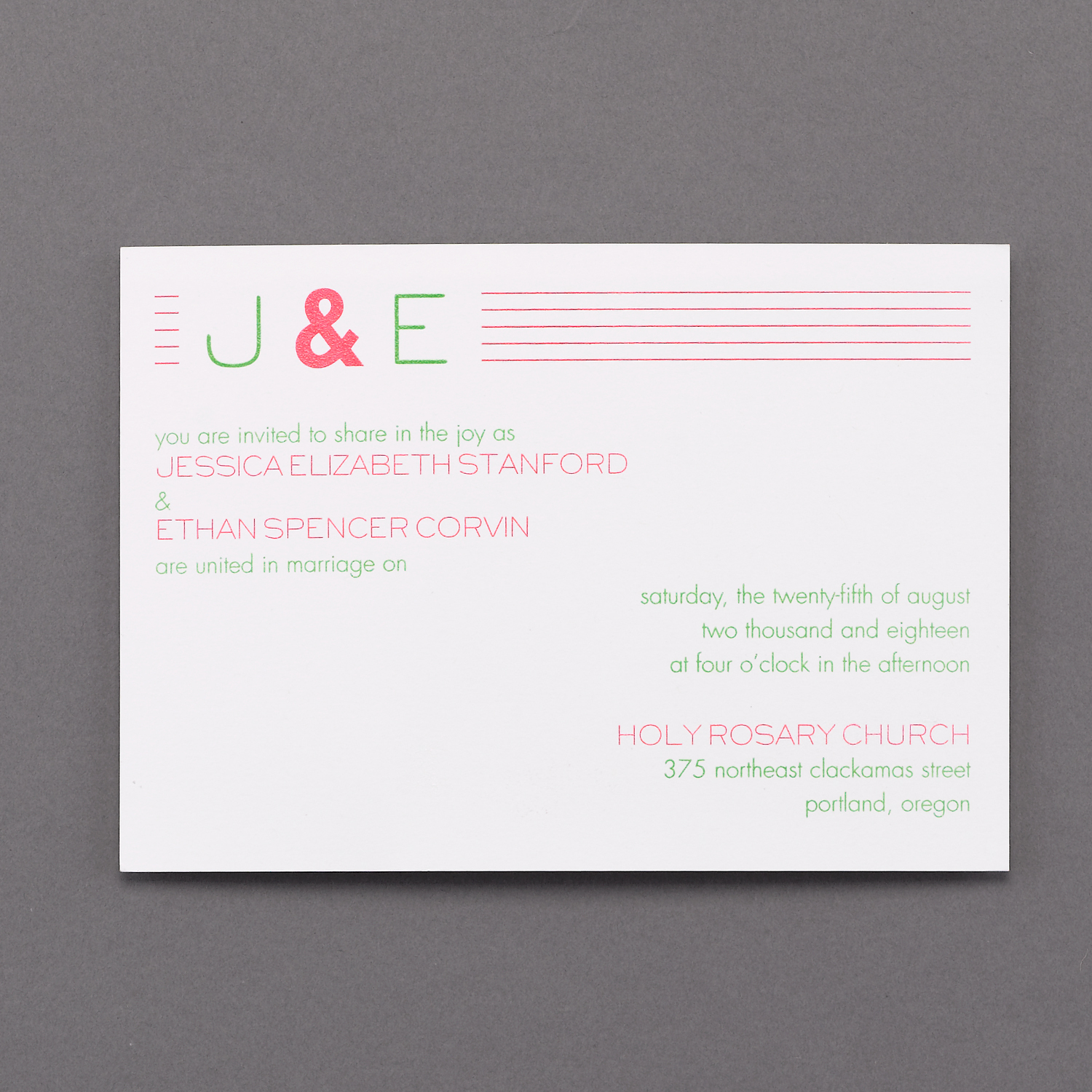 1. Neon Colors
Neon colors aren't just for signs anymore; they're the perfect way to create a bold, loud effect with your wedding invitations so you can let your guests know they should be ready to party it up at your wedding!
Many of the trending Pantone colors for next year incorporate these sharp hues, especially in the red and yellow families. We've watched these daring colors float through the wedding industry since early 2016, but 2018 is definitely the year to be adventurous with neons.
2. Metallics (but not Rose Gold!)
Metallics are a crucial staple in the world of stationery design, but we see brides being a little burned out of the rose gold theme. Rose gold won't disappear entirely, but we see more and more brides opt for different metallic shades. Our big three for 2018? Copper, chrome and silver.
We are already seeing some fun uses of chrome in fashion and beauty products, bringing back this early 2000s color, and though silver has never left the stationery world, it has taken a backseat in the last three or four years to its older brother, gold. 2018 will be the year silver takes back the spotlight! And dare we say that copper might be the new rose gold for a new wedding season?
3. Textures
Again, textures are a staple in wedding stationery, but more and more Persnickety brides have come to us not only concerned about the weight of their invitations but the texture as well. Matte and shimmer stocks will meet more and more linen and cotton papers, and we're even seeing the use of earthy, natural papers become more popular.
Brides want their invitations to be both a visual and kinesthetic experience for their guests. It should not only look beautiful, it should have a memorable touch to help get guests excited for your big day! Opting for unique stock textures is a great way to achieve this.
4. Marbling
Marbling isn't just a material to sculpt into; it's also a great look for your wedding stationery suite! This trend gives a gorgeous geometric feel to even the most traditional of invitations, and it plays off of the perfect natural tones, especially greys, blues, and neutrals.
Marbling is also a simple way to dress up your wedding accessories. It is such a fun theme that can be carried throughout the entire paper suite, all the way from Save the Dates to favors!
5. Woodland Romance (but not Rustic!)
Brides seem to be growing tired of the rustic wedding theme, but they are not abandoning the natural, woodsy feel to their wedding stationery and accessories. Woodland Romance is the perfect response to this shifting trend, and many of our 2018 brides are already incorporating this design into their wedding planning.
Think less mason jars, sunflowers, and burlap. Think more woodgrain with elegant swash script, intricate lace with natural tones, and simple greenery motifs against more traditional paper stocks. It is the perfect combination of what is elegant and natural.
Are you planning a 2018 wedding? Persnickety would love to help guide you through the world of wedding stationery and find the perfect trend for your paper suite. Schedule your appointment with an invitation specialist here. Don't wait! Our dates are booking up fast.