Wedding planning is a sort of a numbers game.
Not only do brides need to know the number of guests to invite, but they also have to keep tabs on how many are planning to attend, how many are unable to attend, how many are making accommodations, how many a venue can hold, how many bridesmaids and groomsmen to have, how many have special dietary restrictions to cater to, how many to order cake for, how many have sent a gift, how many thank you notes to write, and finally, how much everything costs…
The numbers are enough to drive a bride insane.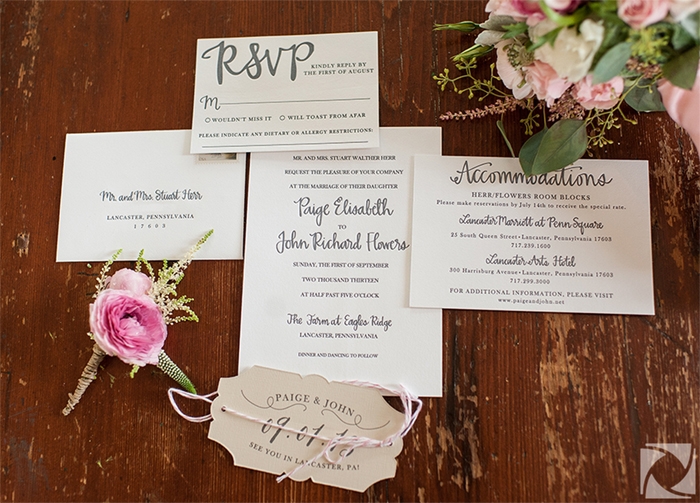 Fortunately, persnickety will always offer expert advice when it comes to how many invitations you will actually need to order for your wedding.
If you decide that an album invitation best suits your needs, our albums can be ordered in sets of 25, but if you decide to go the custom route, our custom invitations can be ordered in quantities of just 10.
Below are a few guidelines we like to offer our brides when it comes to the number of invitations they need to order.
Count Addresses, Not People
Remember that not every single guest receives an invitation.
To get an idea of how many you need to send count the number of addresses on your list instead of the number of guests.
Here's a quick breakdown of who exactly should receive their own invitation:
Couples who are married or living together
Families with children under the age of 18
Children of families living in the home who are over 18
A single guest
The officiant
The photographer (if you request that they photograph your invitation)
Last minute guests
Remember to save a few extra as keepsakes
Remember Extras
How many extra invitations to order is sort of that age old question in the wedding world.
You need to have enough on hand to cover any last minute guests, but you don't want to add too much to your final cost by over-ordering invitations that will go unused.
It is always good to have a few extra on hand in case any are lost in the mail as well (unfortunately, there are some horror stories out there).
We recommend ordering at least 7-10 extra invitations for your keepsakes and added guests, but this number is not set in stone.
It is, however, much easier and much more cost efficient to have extra invitations on hand than to have to place a second order, particularly if your invitations are being specialty printed, like in the case of letterpress.
If you are having a calligrapher address your envelopes or having the addresses digitally printed, discuss your count with the addresser. It might be worth simply ordering extra envelopes.
Order Extra Envelopes
It is always a good idea to order 25 extra envelopes. This will account for any addressing mistakes or if an invitation is returned by the post office. Make sure to order both inner and outer envelopes if your invitation uses both.
Ready to get started on your invitation search? Schedule your appointment with Persnickety here!