Brides are often surprised to see two sets of envelopes when they receive their wedding invitations. Why on earth are there two? And what do I do with the second one?!
Traditional wedding invitation suites typically come from both an inner and outer envelope. More modern designs or invitations that have a pocket usually omit the inner envelope. But if your invitation suite includes engraving, letterpressing, or thermography, chances are pretty good that you'll see an inner envelope!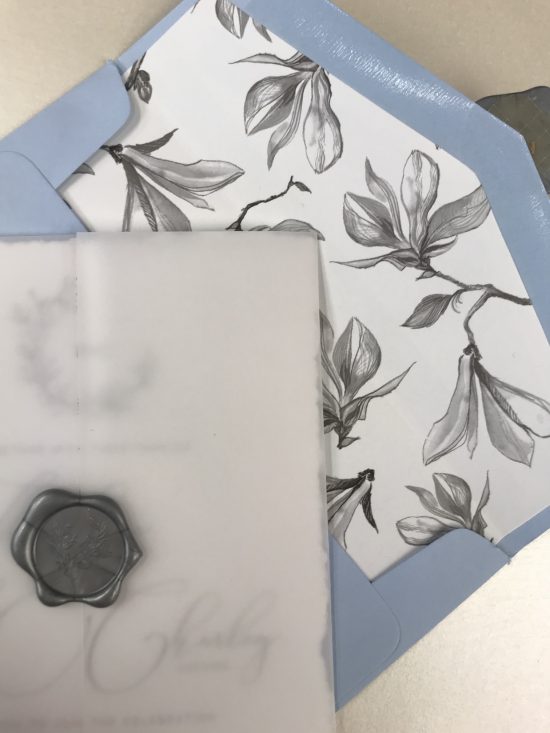 The First Line of Defense
The inner and outer envelope each have a role to play in protecting your wedding invitation. The outer envelope acts as the primary defense and making sure your invitation arrives to guests. Here, you will print guests' names and addresses and where you will place your stamp. Outer envelopes have gum on the envelope flaps, so they will seal shut and make their way to your guests!
The Back Up
The inner envelope acts as extra protection from within the outer envelope. They are a little smaller than their outer companions and often contain a spectacular envelope liner. Here, you will print guest' titles and last names, or if you want to add a touch of personality, nicknames, but do not print addresses on the inner envelope.
You also do not seal inner envelopes shut. Traditionally, inner envelopes do not have gum on the seal, so they won't be sealed shut . . . unless you take a glue stick, which we have had brides do before! Easy to understand the confusion, but you definitely do not want to seal your inner envelope shut!
Do you have more questions about how to address your double envelopes? Check out Persnickety's blog, Addressing Your Envelopes.
Persnickety can also offers full envelope addressing services! All you have to do is give us a list of your guests and their addresses, and we do all the work for you! To learn more about our addressing services, you can check out Persnickety's blog post Busy Bride? Let Persnickety Address for You! or schedule your appointment with an invitation specialist here. We'd love to help you make the invitation process go as smooth as possible!