It's no secret that the world of wedding invitations can be overwhelming to brides. It's a little like stepping into an enormous mega-store of paper, color, and design options; you can literally choose everything and anything! It's enough to make your head spin or freeze with indecision.
That's where Persnickety comes in!
Persnickety prides itself on giving expert advice to all of our brides and walking with them as they make tiny baby steps through the invitation process. We love helping them find an absolutely gorgeous invitation to fuel the excitement for their big day.
So where do you even start the process of choosing wedding invitations? We have some suggestions of how to begin your journey.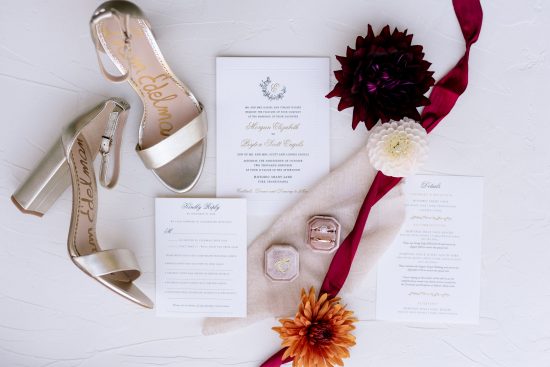 1. Early Bird Gets the Worm
When it comes to wedding planning, procrastination is extremely tempting.
We all know the early bird gets the worm, but the early bird planning a wedding also avoids family pressure, anxiety attacks, and hyperventilation!
To avoid unnecessary stress, consider starting your invitation research early so you can take your time and really get a feel for what styles resonate with you.
We recommend that you begin brainstorming what you would like and need in an invitation at least ten months to a year in advance of your wedding.
This timeline reflects the recommendation that you plan on ordering your invitations four to six months before the wedding.
So what should you consider when it comes to invitations? Here are just a few suggestions of things to keep in mind:
What is the style of invitation you are looking for? Is your ceremony more traditional, more modern, or somewhere in between? Are you looking for something rustic, vintage, elegant, or whimsical? Which fits your personality and event the best?
Are there particular elements you would like to incorporate into your stationery suite? Patterns, colors, typestyles, or embellishments?
Approximately how many invitations will you need? Just a ball park figure will do for now. Make sure you are counting addresses and not guests!
How many insert cards will you need? Have you seen samples of reception, response, or accommodation cards that you absolutely adore?
Are you considering sending out a Save the Date? Will this match your invitation style? Do you prefer a magnet or a flat card? Will it have a photo?
Keep your brainstorming list in an inspiration binder with photos and examples of invitations you love. The more specific you can about what you want in an invitation, the easier it will be to narrow down the thousands of options!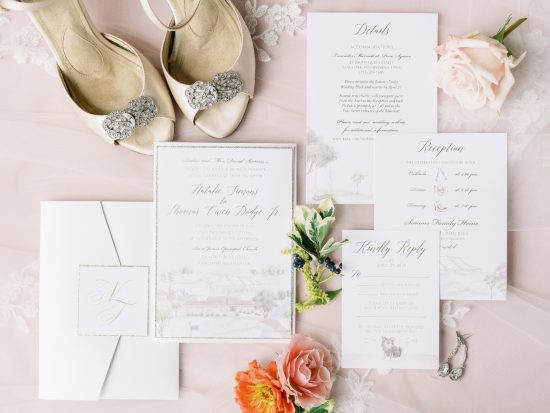 2. Get Colorful
Next, you'll want to consider colors. Do you want to incorporate your wedding colors into your paper suite, as well as throughout the accessories for the ceremony and reception? Are you thinking of bold, bright colors or warm, traditional ones?
Do you have an accent color or want to include metallics? Will these chosen colors affect the readability of the text? You'll want to keep these things in mind when deciding on what paper and ink colors to use for the invitations. Again, the more specific you can be, the smoother the invitation process will go.
3. Consider Size and Shape
Brides are no longer limited to the traditional rectangular invitation. There is a wide variety of shapes and sizes invitations can be designed in; anything from scalloped to square to round.
You'll want to consider the formality of your ceremony. It is usually the first hint guests receive about your event, so the size and shape of the invitation should try to match the tone of your wedding.
You'll also want to keep in mind that some shapes (especially square) will require a little extra postage. But playing with the size and shape of your invitation is an easy way to create a one-of-a-kind piece your guests will absolutely love.
4. Printing Method
Some brides have a preference for a specific printing method, especially if their ceremony leans more towards the traditional.
Engraved, letterpressed, and embossed invitations are some of the most classic printing techniques brides love to use, and we have a huge array of albums with samples of invitations in these processes.
It is also important to remember that certain printing processes take extra time to produce, so allotting enough time for production of your stationery set is absolutely vital.
We suggest that you make an appointment to visit our studio and see the invitations in person. It's always best to be able to look and feel the weight and texture of the paper and to compare the appearances of different printing methods side-by-side.
Schedule an appointment here to find an invitation that best suits your personality and your ceremony.
5. Extra(s)! Extra(s)!
The last thing Persnickety recommends when contemplating which invitation to choose is if and how many insert cards you will need. These include a response set, a reception card, an accommodations or directions card, and a guest information card.
You may need more or less of these depending on your ceremony. We always recommend the response set as a necessity of the invitation suite, but you may not necessarily need to include a reception or accommodations card for your guests depending on the location and formality of your ceremony.
Will you be creating a wedding website where you can include some of this information for your guests to read? Will you be sending a Save the Date with a link to this website ahead of the wedding?
This might eliminate the need for one or two cards, but you definitely need to brainstorm a list of vital information your guests will need to know in order to enjoy your special day.
We hope this is a good start to begin thinking of what you would like and need to include in your stationery suite. As always, Persnickety would be thrilled to help you through the ever confusing world of invitations.
Schedule your appointment with an invitation specialist here, and we'll walk through this together!