Is it ever okay to say "no gifts, please" on a wedding invitation?
Persnickety receives this question all the time. Sometimes, couples don't need traditional wedding gifts. After all, how many house ware items does one need? They've, perhaps, already been living together and don't need a second toaster or a third Keurig. Or sometimes, this is a second marriage and these first-home necessities have already been established.
Either way, there are a few ways to handle to no gifts concern with both style and grace when it comes to your wedding invitations.
Avoiding the Invitation
It is a bold and daring move to include a line about "no gifts" on your actual wedding invitation. It tends to be presumptuous that people will buy you a gift in the first place, and suddenly, the focus travels from your wedding invitation to an expectation of gifts.
For this reason, Persnickety strongly suggests placing your "no gifts" wording on one of your insert cards and NOT the invitation itself.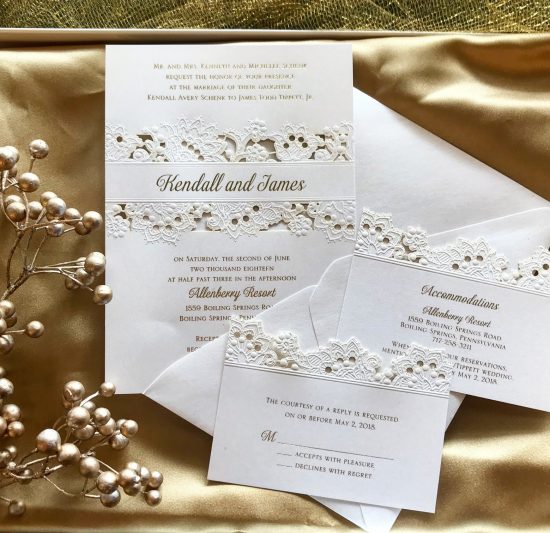 Use Softer Wording
"No gifts" has the potential to come off a bit harsh. If you are going the no gifts route, consider softening your tone to one of these alternative phrasings:
Your presence is our present.
Please bring only your company and your appetite.
Gift us only with the honor of your presence.

Poems Galore!
If you're feeling particularly creative, you might consider testing your poetic skills. Brides sometimes like to use a cutesy poem or saying on their details card to indicate that they'd prefer no gifts. It can be a fun and soft way to let guests know of your wishes.
This can be especially helpful if you are requesting cash instead of gifts. Couples like to use these poems to request honeymoon or honeyfund money as opposed to physical objects. Just remember that a very traditional and elegant wedding invitation set will omit this option.
For example:
"We know it's not traditional,
and not the way it's done,
but rather than a wedding list,
we'd love a bit of sun.
So if you'd like to send a gift
and send us on our way,
a donation to our honeymoon
would really make our day."
Do you have more specific questions about invitation wording or are just unsure of what to say? The invitation specialists at Persnickety are ready to help! Schedule your appointment with an invitation specialist here and let's chat all things wedding stationery.