Properly addressing the inner and outer envelopes of your invitation can be tricky. With so many etiquette rules and unique relationship situations, it can be confusing when you sit down to actually begin addressing.
Having an inner and outer envelope for your invitation is actually a tradition that can be traced back at least to the 18th century.
Invitations were hand-delivered by servants and footmen of the aristocracy in France and England during this time, so the outer envelope protected the invitation from dirt and grime that might be kicked up on the servant's journey. The servant would then present the protected and pristine invitation to the guest by hand.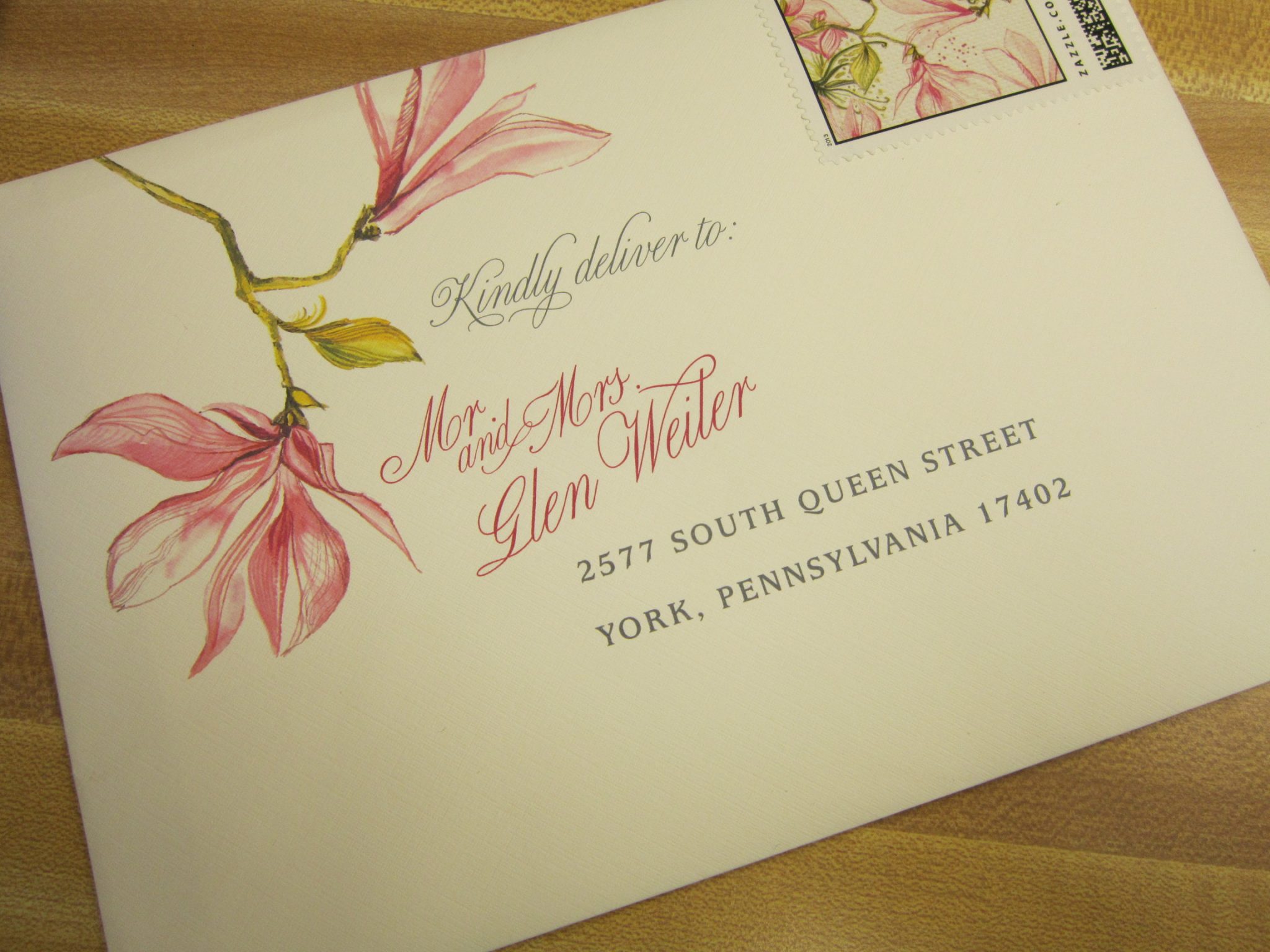 The inner envelope would have the guests' names printed on it; there was no longer any use for the outer envelope and the address because it had already been delivered.
This tradition is still true to this day. The outer envelope protects both the inner envelope and invitation from any dirt or scratches that might occur during the mailing process.
To save you time, one of the fabulous services we offer here at persnickety is addressing. We can either do hand addressing (Melissa has the most beautiful handwriting you've ever seen!), or we are able to digitally print the addresses in-house to match your typestyles on the invitation.
We provide correct, traditional addressing for both your inner and outer envelopes. If you are interested, give us a call to set up an appointment!
Here are some general guidelines we like to offer brides who are just starting the addressing process.
Guest Names
Your guest name and address should be printed on the outside face of the envelope while the titles and the last names of the guests are printed on the inside.
Children under the age of eighteen are printed on the next line.
Married Couple:
Outside Envelope:
Mr. and Mrs. Troy Clayton
Inside Envelope:
Mr. and Mrs. Clayton
Married Couple with Children
under Eighteen:
Outside Envelope:
Mr. and Mrs. Troy Clayton
Inside Envelope:
Mr. and Mrs. Clayton
Michael and Rachel
Unmarried Couple Living Together:
Outside Envelope:
Ms. Christine Smith
Mr. Troy Clayton
Inside Envelope:
Ms. Smith
Mr. Clayton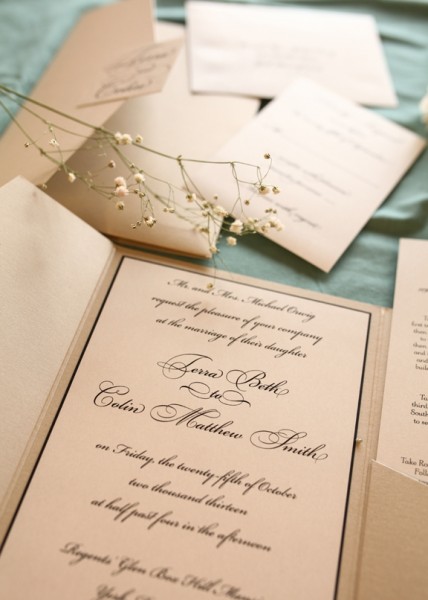 Do Not Abbreviate
We were all taught in elementary school that when writing out addresses, it is appropriate to abbreviate things like titles, states, and street names. Do not do this with your invitation addressing. 
With the except of Mr. and Mrs., nothing is abbreviated when you address. Even though it might look excessive, items like "Boulevard," "Apartment," and "Doctor" are always written out. An example would be:
Outside Envelope:
Doctor and Mrs. Troy Clayton
1234 Park Avenue
York, Pennsylvania 17403
Doctor and Mrs. Troy Clayton
1234 Park Avenue
Apartment 42
York, Pennsylvania 17403
Inner Envelope:
Doctor and Mrs. Clayton
Correct Return Address
On the back flap of your outer envelope should be the printed return address of the location you would like your invitations returned if there be a problem. Traditionally, the address listed on the back flap is the address of the person who issued the invitation.
If the bride issued the invitations, then her address is listed; if her parents issued them, then their address is listed. However, many people use the return address as an indication of where gifts are to be sent, so it is acceptable to use your address if this is the case.
Need more assistance? Check out Style Me Pretty's video and instructions on How to Address a Wedding Invitation. Looking for Persnickety to make addressing a breeze? Find out more about our addressing services by scheduling an appointment with an invitation specialist!