A wedding program is one of those little details that make your wedding day even more memorable.
Not only can they be kept as a keepsake and as a record of the ceremony, they also help your guests be more involved and understand what is happening during the wedding itself.
Ceremony programs also help to explain the relationships of the individuals participating in the wedding to the bride and groom.
The more guests are involved, the more likely they are to enjoy themselves! Persnickety can help you customize your program and help you create a memorable keepsake for your best day ever.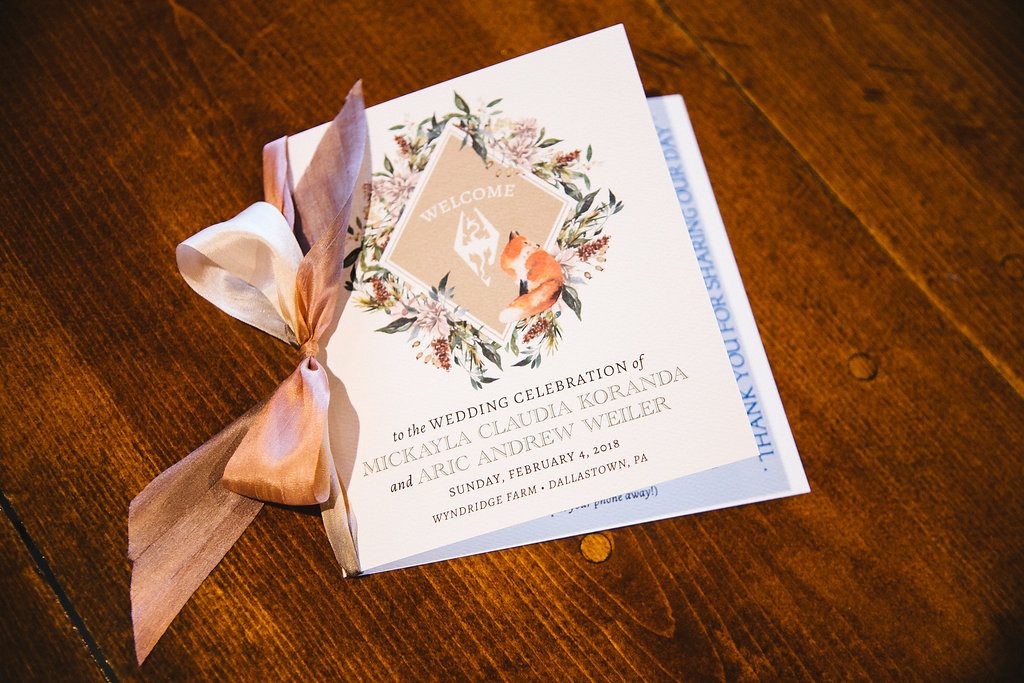 Keeping It in Style
First things first- what style of program is your favorite?!
The two most popular type of programs from Persnickety are the booklet programs or the thin sheet programs.
The booklet programs are just as their name sounds- they open like a book! This style of programs is particularly helpful for couples who are having formal religious ceremonies that require specific explanations or instructions regarding the order of ceremony.
They also are a great option for couples that have a lot of information they want to share with their guests.
Persnickety can add pages to your ceremony booklet, tied perfectly with your choice of colored ribbon, so guests have the cutest little book to follow along.
The thin sheets are great for the short-and-sweet ceremonies that might just require the order of ceremony and wedding party.
This style of ceremony program is great for couples who want to help guests follow along with their wedding but don't need to be too specific.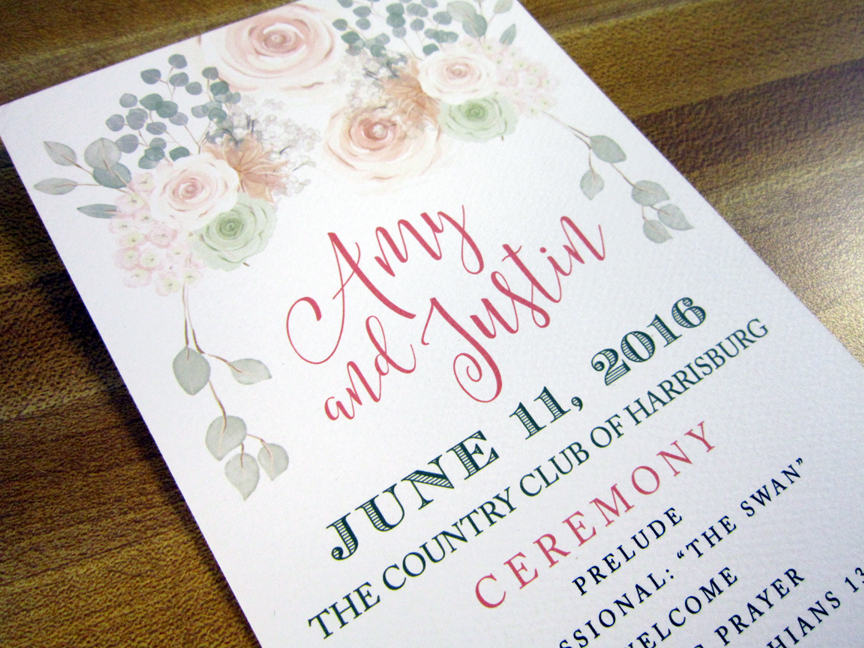 Thin sheet programs are typically double-sided with your choice of design and ink. Persnickety can even attach a ribbon to the top for that perfect finishing touch.
What do I Include in my Program?
So, what do I put in my ceremony programs anyway? The choice is totally up to you. These are some of the most commonly included items found in Persnickety's ceremony programs:
Your names (including middle names)
The date
Location of ceremony
An outline of the ceremony (order of events)
Titles of readings and songs
Name of officiant
Names of wedding party members and their relation to the couple
Names of others involved in the ceremony (readers, soloists, musicians, etc.)
Some extra information you might want to consider adding are:
Dedications and thank yous
Remembrance of loved ones who have passed away
Words to readings, songs or vows
Directions from the ceremony to the reception
Foreign translations
Explanations of any cultural or religious traditions
Favorite poem or quote
Your wedding monogram
You will want to decide how formal and what format you would like your programs to appear in approximately one month before the wedding.
We also suggest that you designate someone to pass out the programs on your wedding day. This assures that one program is given per couple or one per group instead of per individual, keeping the number of programs you need to order and their costs down.
Ready to get started creating the ceremony program of your dreams? It only takes less than an hour to get started! Schedule your accessories appointment with Persnickety today.