Q. A few individuals on my wedding guest list are single.
How do I let these guests know they can bring a guest?
A. Before we delve into the question, let's look at the two types of envelopes that need to be addressed for your wedding invitations.
Traditionally, stationery suites include two envelopes: an outer envelope and an inner envelope.
The outer envelope is where the guest's name and address appear. This is also where your return address is (in case any invitations are returned to you.)
The postage will be affixed to this envelope, and the post office employee places the hand cancelling stamp here.
The Outer Envelope
The purpose of the outer mailing envelope is to protect the inner envelope that contains the invitation set.
That way, if the post office is sloppy with the mail that day, any dirt from the mailing process sticks to the outside envelope and not your beautiful invitation.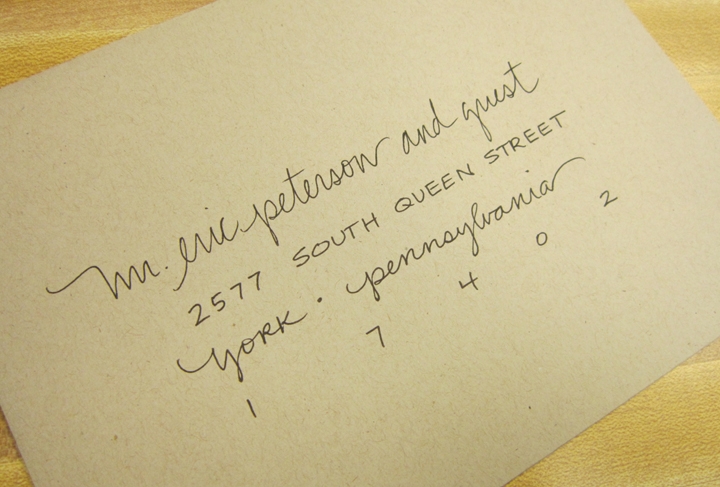 The Inner Envelope
The inner envelope is placed inside the outer mailing envelope, and it holds the invitation set.
Think of the inner envelope like the protector. Its job is to keep the invitation safe and clean.
Often, the inner envelope contains a specialized liner that corresponds to a particular color or design from the invitation. But the inner envelope is not sealed shut, unlike the outer envelope.
How Do I Address?
If your invitation set contains both sets of envelopes, you would address the outer envelope to your guest only. The plus one does not appear on the outer envelope:
Outer Envelope:
Ms. Sharon Walker
2577 South Queen Street
York, Pennsylvania 17402
To indicate that the guest receives a plus one and is permitted to bring a guest to your wedding, you would write the guest's title, last name, and "and Guest" on the inner envelope only:
Inner Envelope:
Ms. Walker and Guest
Remember, according to tradition, "and Guest" does not appear on the outside mailing envelope when the wedding stationery set includes two envelopes.
However, if your invitation set only has one mailing envelope,  particularly in stationery suites with a very modern, unique design, it is acceptable to have "and Guest" on the front of the mailing envelope.
Single Mailing Envelope:
Ms. Sharon Walker and Guest
2577 South Queen Street
York, Pennsylvania 17402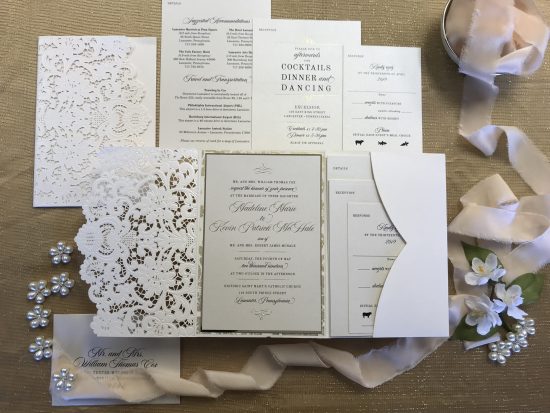 Interested in Addressing?
Did you know Persnickety can take care of all the envelope addressing for you?
If you're a busy bride and are interested in having Persnickety hand write or digitally address your envelopes, check out some fun details here! Then get ready to schedule your appointment with an invitation specialist online here.
We can't wait to meet you!