Seating Chart Love
Not into the idea of using escort cards at your wedding reception? A seating chart is the perfect way to help your guests find their assigned seat!
Persnickety creates hundreds of seating charts every year. Some are chalkboard; some are on mirrors. But all are absolutely unique to each wedding. So, we wanted to share just a few tips on how to best design your custom seating chart and make it the perfect finishing touch for your big day.
Consider Alphabetizing
If you have a large wedding party (100 guests or more), you want to consider alphabetizing your seating chart by guests' last names. This is simply to avoid any backlog of people trying to search for their names on the seating chart at the reception. You don't want to make them work for it, of course!
Alphabetizing guests' names make it easy for guests to come up to the chart, find the letter of their last name, and voila! They make their way to their table. Easy as pie.
For smaller wedding parties (less than 100 guests), brides sometimes choose to list guests by table rather than by name. Just make sure to choose a clear and easy-to-read font to make it easy for guests to find their name if you design it this way.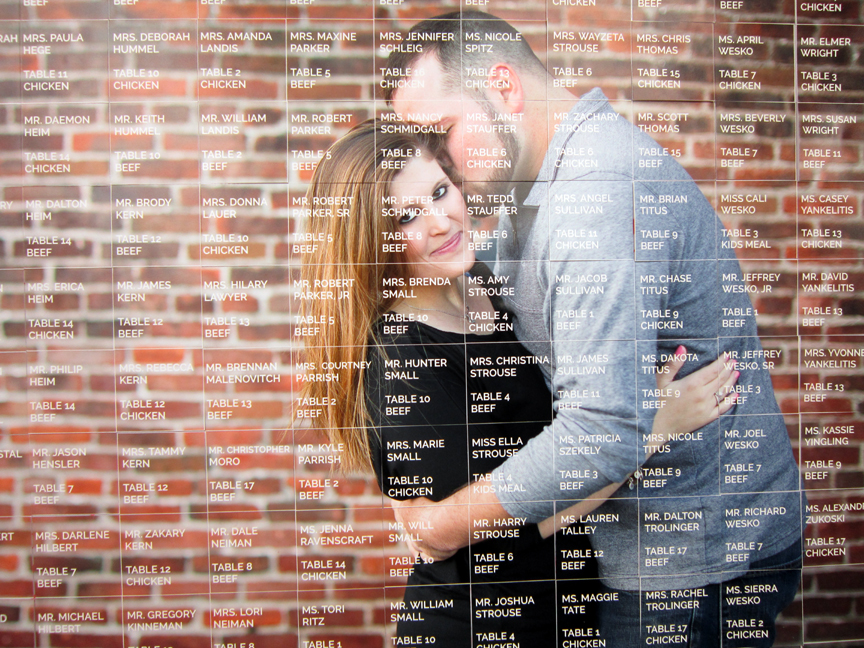 Photo Op!
Incorporating your engagement photos into your seating chart is an easy and unique way to create a memorable wedding accessory. Persnickety loves creating these fun seating charts!
We simply take your favorite engagement photo, mathematically separate the photo into a giant grid, and cut each square of the photo into a place card. Once each square place card has been taken away, there is a giant "thank you" printed underneath the photo for you to keep. This is such a cool way to incorporate both a seating chart and place cards into your wedding reception.
Persnickety can use just about any photo as well, just like we did for Alyssa and  Robbie's seating chart. Lori, the mother of the bride, actually painted this stunning floral watercolor by hand. Persnickety then took this design and created a custom seating chart and place card board for this wonderful celebration at Linwood Estate.
Make Some Memories
A seating chart is also an incredible keepsake that you can keep throughout your marriage. Many of Persnickety's brides have their seating charts framed, mounted, and laminated to hang in their home to remember who came to their wedding.
Persnickety can also create any design on these seating charts. From rustic to romantic and everything in between, let us help you find a wonderful keepsake to cherish as you start your new life together.
Custom sized 24″ x 36″ mounted and laminated seating charts start at $250. Schedule your appointment online with a graphic designer today, and let Persnickety take all the work out of seating your wedding guests.