The terminology for wedding stationery can be confusing! From the reception card to the details information to the menu to the place cards… it can be overwhelming to a couple! Especially if that couple already has so many decisions to make.
But don't worry! Persnickety is here to help! In this post, we are breaking down the differences between those little cards that seem so similar to one another- the wedding place card and escort card.
So, what are they?
Place cards are small cards that sit on guests' tables that state the name of each guest, which table they have been assigned, and generally contain some type of coding used to indicate the guest's meal choice.
These differ from escort cards which are small cards that just have the guest's name and their table number. Persnickety can help create customized place and escort cards that help assure your reception runs smoothly.
The Number One Rule
Place cards are created with one major distinction in mind: if the guests are offered a meal choice beforehand or if the guests are not offered a meal choice. Let's break it down:
| | |
| --- | --- |
| If guests are offered a meal choice | If guests are not offered a meal choice |
| This information comes from the RSVP card sent with the invitation. Each guest is to mark which meal they would like and return this information to the bride and groom. | If no meal choice is offered, whether due to buffet style or all guests receive the same meal, place cards generally only have the guest's name. |
| A place card is needed per individual. | A place card is needed per couple. |
| The place card is coded in a particular way that indicates which meal the guest receives. | Place cards are not coded. |
In order for Persnickety to give the proper amount of attention to your place cards, we ask customers to choose their place and escort cards at least four weeks in advance of the event date and email us a final guest list two weeks prior to the wedding day.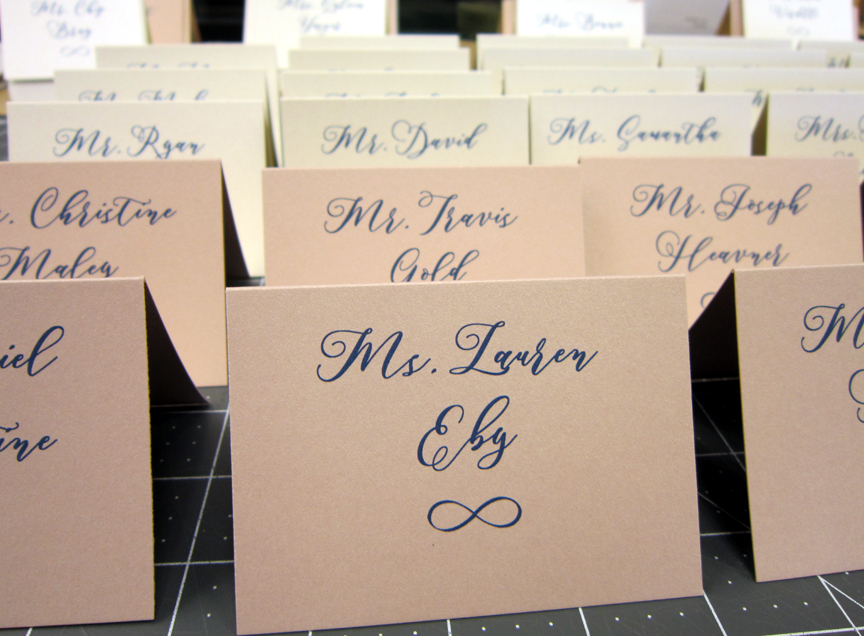 Persnickety will package all place and escort cards in alphabetical order by last name. We also include ten key cards for the reception staff and two reminder cards that remain on the escort card table for guests. These services of the alphabetization and creation of the key and reminder cards are always offered at no charge.
We hope this helps calm the wedding stationery lingo fear! If you are planning an upcoming wedding and still need day-of accessories like the place and escort cards, Persnickety would love to help! You can schedule your appointment for accessories by clicking here.